Are you ready to reopen your business? You've considered every scenario and invested considerable time, labor, and funds to keep employees and customers safe. So with all of this preparation, what could possibly go wrong? Keep reading.
Failing to Provide a Safe Workplace. As an employer, you may be liable if your employees are exposed to COVID-19 in the workplace. For example, a Walmart, located outside of Chicago, was sued by the families of two workers who were killed by coronavirus. The family alleged that Walmart did not do enough to protect its workers. According to the wrongful death complaint, the retailer failed to clean and sterilize the store properly, failed to enforce social distancing guidelines, failed to provide personal protective equipment (PPE) to employees, and failed to address the health concerns of employees with COVID-19 symptoms and to warn other workers. And in South Dakota, a Smithfield Foods plant closed after more than 800 workers tested positive for COVID-19.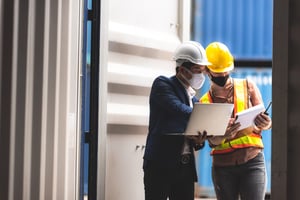 Overlooking New OSHA Requirements. OSHA recently increased workplace inspections. In an employee contracts COVID-19, an employer is required to investigate to determine if the virus was contracted at work or while performing work-related activities. If the infection is work-related, the employer must record it on OSHA Form 300.
Violating Local Safety Legislation. To address the increasing numbers of positive Covid-19 cases, Greenville, South Carolina, recently passed an emergency ordinance requiring masks be worn inside grocery stores and pharmacies. Violations to the new ordinance carry fines of $25 per customer and $100 for businesses.
Denying Paid Sick Leave. Are you up to date with new and changing Federal, State, and Local COVID-19 regulations, including those from the Department of Labor (DOL), EEOC, and OSHA? Failure to stay on top of these new and changing laws can lead to significant fines and penalties.
A fabrication company in Georgia was required to pay $1,060 in back wages to an employee after the DOL determined the employer wrongly denied emergency paid sick leave, covered under the Families First Coronvirus Response Act (FFCRA). The company refused paid leave despite a healthcare provider's recommendation that the employee self-quarantine while waiting for coronavirus test results.
Wrongful Termination. A Maryland electrical contractor violated FFCRA when it terminated an employee requesting paid leave to care for a child after the mandatory closing of all schools. The contractor was required to reinstate the employee and pay the employee back wages.
Missing Payroll. After an investigation, a dry cleaning company in Huntsville, Alabama, was required to pay $15,385 in wages for minimum wage law violations of the Fair Labor Standards Act (FLSA). The company missed payroll and failed to pay its employees on time.
According to the U.S. Department of Labor's Wage and Hour Division (WHD), employees must be paid the wages earned for the hours worked and must be paid on their scheduled payday, not when it's convenient for the employer.
Failing to Accommodate. A Massachusetts engineer with a disability refused to return to work and as a result, was fired. The employee sued the employer for refusing to grant a disability accommodation, a violation of state law.
Employers planning to reopen need to be aware of their obligations to accommodate workers with disabilities. During the pandemic, the U.S. Equal Employment Opportunity Commission (EEOC) workplace anti-discrimination laws, including the Americans with Disabilities Act (ADA), still apply.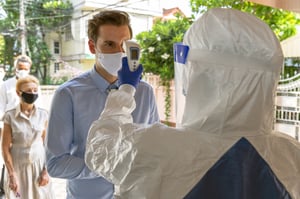 Confidentiality Breach. In compliance with the ADA, HR must also consider the privacy concerns around health screening activity, data collection, and managing sensitive personal and health information. The methods for collecting information may vary from employer to employer, but inquiries into an employee's medical condition must be directly related to protecting employees, as well as the public from COVID-19.
Not Compensating Employees During Testing. Paying employees for time spent during the testing process continues to be overlooked by employers. In compliance with FLSA as well as state and local laws, employers are required to compensate their employees for the time spent waiting to be screened and the time during screening.
WARN Act Violations. An Enterprise employee sued the company for failing to provide advance notice of layoffs as required by the federal Worker Adjustment and Retraining Notification (WARN) Act. Under the Act, employers are required to notify their workforce and communities in advance of a qualified plant closing or mass layoff.
Read More: Mitigating Workplace Risks
While the pandemic has forced companies to close or reduce their workforce, employers should pay attention to applicable WARN Act obligations as well as state and local requirements. Violating the WARN Act can result in significant legal liability for employers, including back pay and benefits to each employee, for each day up to 60 days, and $500 in civil penalties for each day an employer fails to notify the local government.
Prepare For the Unexpected. Employers have a responsibility to provide a safe and healthy workplace and, in particular, to protect employees, customers, and others from contracting COVID-19. With so much uncertainty, employers planning to reopen should consider all of the potential liabilities and risks.
Need help? Our new Employer's Back to Work Toolkit has all of the paperwork, resources you need in once place, plus the expert HR guidance to help you reopen with confidence while the pandemic is still active.
About Propel HR. Propel HR is an IRS-certified PEO that has been a leading provider of human resources and payroll solutions for more than 20 years. Propel partners with small to midsized businesses to manage payroll, employee benefits, compliance and risks, and other HR functions in a way that maximizes efficiency and reduces costs.