To better understand someone's role in your business, try walking in their shoes. Here are a few benefits.
"Before you judge a man, walk a mile in his shoes."
Recent news stories have highlighted how Uber CEO, Dara Khosrowshahi, played "undercover boss" by driving for Uber and delivering meals through Uber Eats. This on-the-job experience led to significant changes and ultimately increased Uber's revenue and market share.
Khosrowshahi drove a used car and went by the name "Dave K" as he chauffeured passengers through the San Francisco area. After the U.S. began to emerge from COVID, Uber had more riders than drivers and was struggling to meet demand. To solve this problem, Uber initially paid bonuses and offered financial incentives. However, this was hard on the bottom line and did not necessarily solve the labor shortage problem. At the suggestion of the Head of Driver Operations, the Uber CEO decided he should drive and see what it is like to be a gig worker.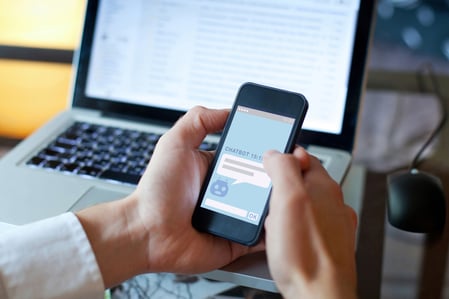 Starting with the Uber sign-up process, Mr. Khorowshahi was frustrated and felt that the instructions were not clear. His feedback quickly brought about changes in the app as well as messaging about estimated pay per ride. When "Dave K" was punished by the Uber app for rejecting some remote trips, he worked with his team to change the approach to incentivize drivers for difficult trips instead of punishing them.
Through his act of driving passengers and delivering meals, he understood what it meant to deal with harassing customers, rush hour traffic, and an unsavory practice called "tip baiting," which strips the driver of the tip after enticing them to accept the order with a phony good tip. These experiences motivated him to work with his team to enhance the app, add new safety features, and better disclose estimated pay and mileage. While these enhancements have not eliminated all driver concerns, they have significantly impacted the driver experience, and in 2022, Uber's ride-share revenue more than doubled. Dara Khosrowshahi lived up to the adage and more – he didn't just walk a mile; he drove for many miles, which ultimately made him a better leader and Uber, a stronger company.
Walking a Mile a Propel HR
I have recently had a similar experience. At Propel HR, all new hires must "Walk a Mile" as part of their orientation process. New employees spend several hours with each department in our operations to learn what each role does and how each department intersects with others.
As a PEO, Propel HR is a complicated business that impacts our clients' employees. We process payroll, submit taxes, provide benefits, administer Workers' Compensation, offer HR support, and ensure it works efficiently through our various software programs. It is important that our pros understand how each function coordinates with other departments.
Here are a few examples:
Workers' Comp Injury.

Our payroll, benefits, risk management, and human resources teams are all involved when an injured employee is on leave due to a Workers' Comp injury.


Compliance in Multiple States.

When an employee moves to another state, our payroll team must work with the tax department to make sure taxes are changed, the HR partner to determine any new compliance items, and our benefits and Workers' Comp departments make sure coverage is properly secured.
Everyone at Propel HR must work together, so by walking a mile in each other's shoes, our Propel Pros learn the importance of the whole team.
▶️▶️Read More: How to Strengthen Your Talent Strategy
When my father and I first started the company in 1996, there were four of us. My father handled the sales and overall growth and vision. We had one person who processed payroll and a controller who paid taxes and oversaw financials. My job was everything that was left over! I handled Workers' Compensation coverage and claims, benefits administration, and gave HR advice as needed. And if someone was on vacation, we each handled the other's job.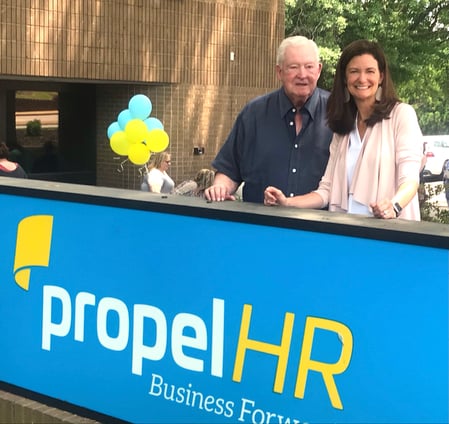 Our business has grown since then, and our industry has also matured. Employment laws have multiplied and have become more complex. Today, Propel HR has Master Health plans, multiple Workers' Compensation plans, and two payroll platforms. Our worksite employees are in 47 states and will soon be in all 50 states. Twenty-seven years ago, I felt comfortable handling most of our operational functions; today, I wouldn't know where to start!
It is strange to understand so much about the big picture of the business but not understand how all the pieces work on a daily basis. To better understand, I spent time this past month on my own Walk-a-Mile. I met with different departments, asked lots of questions, and saw their jobs from a different perspective. I watched, I listened, and I helped when I could. The time I spent with each team was incredibly valuable, and I look forward to walking more miles with each of them in the future.
The Benefits
Here are some of the benefits of walking in another's shoes:
The Value of a Bird's-eye View. Since I am not in the daily details of each job, I was able to bring a different perspective to the teams. I questioned why they did things the way they did and asked if there may be a more efficient way to get the same results. I encouraged the team to think differently and question the why more. Are we doing something just because that is how we have always done it? The detailed information I learned, coupled with my elevated view, helped me think critically about new processes and cross-team interactions.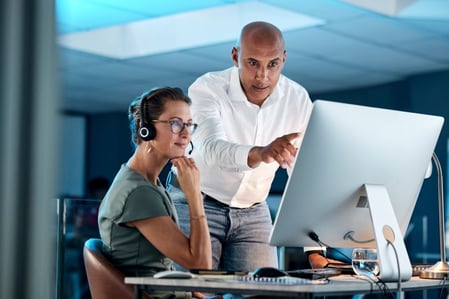 The Evaluation of New Tools. By learning the details of each job, I was able to determine if there are some tools we are not using or not even asking for because we don't know they are available. I was able to quickly see some needs for new technologies and integrations that can save time. I recognize that these tools and customizations cost money now but may save money and time in the future. My position brings knowledge of what tools are available and what we can afford to implement. Once I learn what the true needs are, then we can provide the best solutions.
The Ability to Assess Staffing Needs. In my role, I often hear that we need to hire more people. At times, this is the right answer, but other times I wonder if another human will solve the problem. Working beside the teams, I learned so much, which will help with future hiring strategies. I learned the time needed for each task, questioned manual processes, and asked each person about their workload. I also asked specifically what skills and traits make someone successful in their role. I listened intently and tried to understand what needs they had.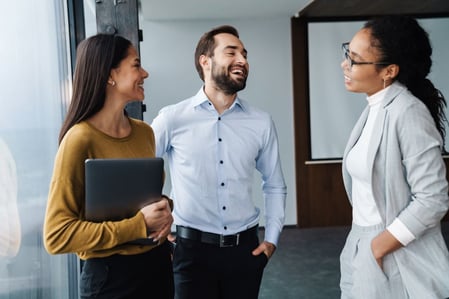 A Chance to Celebrate the Team. The biggest takeaway from my Walk-a-Mile was how amazing our team is. It was so exciting to see the value they bring to our clients each day. Sometimes in my role, I am required to focus on the big issues. This program reminded me that no job is too small, and we must work together to provide excellent service to our partners. The knowledge each employee has, and their pride in their work are impressive.
Every one of our employees is truly a Propel PRO!
You don't have to be the CEO of Uber to gain experience from walking a mile in your team's shoes. Through my Walk-a-Mile process, I learned new things which will help provide solutions as our company grows. Whether driving or walking, I strongly suggest you take the time to work in your team's role. It will make you a better leader and your organization stronger.
Propel HR President Lee Yarborough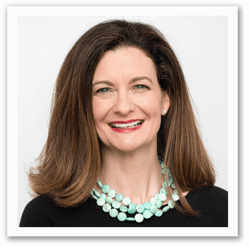 "My father, Braxton Cutchin, and I founded the company in 1996. After being in the PEO and HR world for 25 years, I have experienced firsthand the value we can provide to both the clients and the employees. It is truly a win for all parties. I'm proud to have helped establish Propel HR as an industry forerunner in the Southeast. There is nothing I love more than receiving phone calls from clients who seek my advice as a trusted advisor. This is a business where I feel that I can help others, and that is important to my own value."
-- Lee Yarborough, President, Propel HR
🎧Learn more about Lee's experience starting Propel with her father, her work on Women in NAPEO & NextGen, and the importance of having the "freedom to fail." Listen HERE on Spotify or search People Pat Meets where you get your podcasts.
Active in many professional and community organizations, Lee recently served as Chair of the Board of Directors of the National Association of Professional Employer Organizations (NAPEO). As NAPEO Chair, Lee focused on diversity and initiatives to deepen member relations. Under her leadership, she formed Women in NAPEO (WIN), a networking group designed to engage, empower, and encourage women working in the PEO industry. On the local level, Lee also served as the Chair of NAPEO's Carolinas Leadership Council for more than a decade. In 2015, she was named a Fellow of the eleventh class of the Liberty Fellowship Program and a member of the Aspen Global Leadership Network.
An advocate for public education, Lee has served on the executive board as Chair of Public Education Partners and is the founder and director of Read Up Greenville, a young adult and middle grades book festival in downtown Greenville, SC.
When she breaks from board meetings, client visits, and networking, most likely, you will find Lee reading, camping, or spending time with her family. She also enjoys volunteering at her church and staying involved with her children's schools.
About Propel HR. Propel HR is an IRS-certified PEO that has been a leading provider of human resources and payroll solutions for more than 25 years. Propel partners with small to midsized businesses to manage payroll, employee benefits, compliance and risks, and other HR functions in a way that maximizes efficiency and reduces costs. Visit our website, www.propelhr.com.