Propel HR President Lee Yarborough was recently elected Chair of the National Association of Professional Employer Organizations (NAPEO) Board of Directors. She spoke with PEO Insider magazine to share where she thinks the industry is headed and how NAPEO can continue to grow.
Download a pdf version of the full interview: A Passion To Serve
WHAT WAS YOUR FIRST EXPOSURE TO PEO? WHAT WERE YOUR IMPRESSIONS OF THE PEO INDUSTRY AT THAT TIME?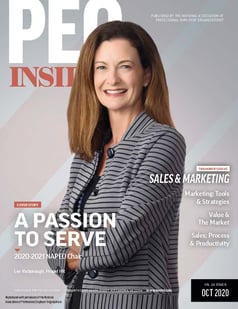 My father, Braxton Cutchin, has always been an entrepreneur, so throughout my childhood he owned all types of businesses. When I was in high school he bought a company that was using an employee leasing company. He first thought the concept was a waste of money, but quickly realized it was a great arrangement, so a few years later he started his own PEO. After I graduated from college, I decided to work for my father while I was trying to figure out what I really wanted to do with my career—but I've been working here ever since! He ended up selling his PEO, and we started Propel HR together in 1996. He named me as president right from the beginning, and allowed me to grow, learn, and make my own decisions.

HOW WOULD YOU DESCRIBE YOUR COMPANY'S BUSINESS MODEL & PHILOSOPHY?
Because we started as a family business, we really focus on family values. Even though we've grown and evolved, we always stay true to who we are. Family first is an important part of our culture. As a working mother, it's important for me to attend my children's events and I always encourage other employees to do that.

HOW HAS THE COVID-19 PANDEMIC AFFECTED YOUR OPERATIONS? HOW HAVE YOU ADAPTED TO CONTINUE SERVING CLIENTS?
Operationally we've had to adjust, pivot, and learn how to do all that we do remotely. We started planning early on for an internal shutdown, and during the beginning only a few employees were on site. Now we're in a voluntary, staggered return-to-work phase.
Helping our clients with Payroll Protection Program (PPP) loans has been a big focus for us, because nearly 75 percent of them have received PPP loans. We really took time to walk our clients through all the new legislation that Congress passed, and helped them navigate everything from furloughs and layoffs to 401(k) and paid time off (PTO) changes.
WHAT IS YOUR VISION FOR THE PEO INDUSTRY? WHAT CONTINUES TO INSPIRE YOU ABOUT THE INDUSTRY?
I think the wonderful thing about our industry is what my dad first saw: This is truly a win-win. We can run a profitable business, and we can really help our clients run profitable businesses.
I love the PEO industry because every day is new and gives us the opportunity to propel our clients' businesses forward. Knowing that we give value to business owners is what inspires me. I hope we can continue building on our momentum and demonstrating our value as an industry to more and more business owners.
WHAT IS THE BIGGEST OPPORTUNITY FOR THE INDUSTRY TO GROW? WHAT IS THE BIGGEST CHALLENGE FACING THE INDUSTRY?
Our industry has always had great opportunities to grow when there were challenges to the business world, such as the Affordable Care Act (ACA) and COVID-19. These challenges allow PEOs to show and share our value with business owners. It's important that we continue to demonstrate to business owners how PEOs help them navigate complexity and uncertainty.
The commoditization of our industry poses a big challenge because sometimes PEOs hurt each other when we compete on price instead of focusing on the services and value we can provide. We have to appreciate how hard it is to assemble a team of experts who can provide the value that PEOs do.
WHY DID YOU INITIALLY JOIN NAPEO & SEEK TO BECOME INVOLVED?
Joining NAPEO was a no brainer. From day one, we've been members and it's never something that I've questioned. As for getting involved, that's just my personality. If I'm a part of an organization, I'm going to be involved whether it's my children's school or my church or my trade association. It might sound cliché, but you get out what you put in. I don't want to just be a member — my passion is to serve and see how I can help.
HOW DO YOU SEE YOUR ROLE AS CHAIR? WHAT ARE YOUR PRIORITIES?
My top priority is to get more people involved. I'd like to see more voices in the room. I think we need more diverse and younger members involved. There are a lot of smart, outside-the-box thinkers who come to our events—we should reach out to them and tap into their energy so we can grow our association and make NAPEO stronger.
OUTSIDE OF WORK, WHAT ARE YOUR HOBBIES, INTERESTS, & PASSIONS?
My family is my greatest passion. I've been married for 22 years and have two daughters. My oldest is a college freshman studying in Leeds, England, and my youngest is in eighth grade. I'm an avid reader, so much so that I started a book festival called Read Up Greenville for young adult and middle grade readers. My family and I also enjoy being outdoors. We love to camp and hike in the mountains.
Reproduced with permission of the National Association of Professional Employer Organizations (NAPEO)
About Propel HR. Propel HR is an IRS-certified PEO that has been a leading provider of human resources and payroll solutions for more than 20 years. Propel partners with small to midsized businesses to manage payroll, employee benefits, compliance and risks, and other HR functions in a way that maximizes efficiency and reduces costs.