If you are preparing to reopen your business, how do you know if you have the right safety measures in place? Before you bring employees back to work, consider the following to create a safe workplace.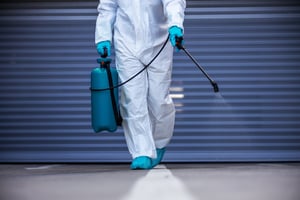 Follow Government Guidelines and Recommendations. Before reopening, employers should follow the latest guidance on maintaining workplace safety from Federal, State, and local government agencies, including the US. Department of Labor, CDC and OSHA. In general, this includes recommendations for social distancing, frequent handwashing, regular cleaning and disinfecting work areas, modifying workplaces to separate workers, and using appropriate personal protective equipment (PPE). But that's just a start and depending on your business, may not be enough protection.
Check Industry-Specific Safety Guidelines. The level of risk factors varies with every industry and will depend on how workers interact with others. Check with your professional association for industry-specific guidelines on how to transition employees back to work.
Read More: Mitigating Workplace Risks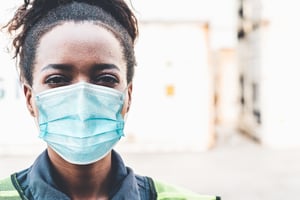 Review Job Functions. Addressing safety measures specific to an employee's job function is critical to protecting employees and customers. For example, an employee working in a high touch environment, such as a retail associate, will be at a higher risk for exposure than a computer programmer working in an office at the same organization. By understanding the risk factors for the specific job, an employer can implement the appropriate safety measures that go well beyond the basic guidelines.
A recent study identified the following five factors that determine the level of protection, including:
Physical Proximity: How close are workers to each other?
Nature of contact: Do workers touch common items, other workers, or customers?
Duration: How long does a typical interaction last?
Number of contacts: How many interactions occur in a day?
Ability to screen and remove: What screening measures or protocols are in place that protects workers and customers from those testing positive?
Read More: Back to Work: What Could Go Wrong?
Using the retail example, an employer may take additional safety measures, such as:
Limiting the number of people on-site at a time
Taking the temperature of workers
Enforcing the use of gloves, hand-sanitizer, and masks
Installing protective screens at checkouts
Regularly sanitizing high-traffic and high-touch areas
Reducing store hours
And to further demonstrate a commitment to employee safety and well-being, employers can:

Boost pay or provide bonuses for staff working during high-risk periods
Offer paid sick leave for staff who are feeling unwell or self-isolating
Provide health checklists for employees to review before coming to work
Monitor Guidance by Location and Community Transmission. As the pandemic evolves, guidance may also vary depending on the location of your business and the level of active community transmission.
Communicate Your Safety Strategy & Train Staff. For a safety plan to be effective, employees and customers need to understand their role in mitigating COVID-related risks. Share your reopening plan and safety strategies, train leaders, regularly monitor the process, ask for feedback, and make adjustments if needed.
Seek Professional Advice. Failure to stay on top of new and changing laws can lead to significant fines and penalties. Review your reopening strategies with legal and HR professionals to help mitigate the risks specific to your workplace.
Are you concerned about reopening safely?
To help businesses reopen with confidence, we created the COVID-19 Back to Work Employer's Toolkit, which includes important resources, and all of the paperwork you need in one place, plus the expert HR guidance to help you reopen with confidence while the pandemic is still active.
About Propel HR. Propel HR is an IRS-certified PEO that has been a leading provider of human resources and payroll solutions for more than 20 years. Propel partners with small to midsized businesses to manage payroll, employee benefits, compliance and risks, and other HR functions in a way that maximizes efficiency and reduces costs.