For years, remote working has been on the rise. While many businesses were already moving in that direction, the unexpected outbreak of COVID-19 left many workers with little option but to work from home.
Benefits of Working Remotely
In addition to health and safety, working from home has many advantages, including:
Increased Productivity. Most remote employees have fewer interruptions from peers when working from home and have more flexibility to work different hours more freely. Research shows that remote workers are more productive, with 53% of remote workers likely to work overtime, compared to 28% of those working in an office.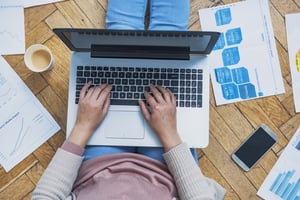 Better Work-life Balance. Time saved from not having to commute to work can be spent with family and friends. According to a recent study, those who work at home are in better health and more productive. Overall, employees who have more control over their work schedule and perceive their time is spent more efficiently, are happier, have less stress and a better work-life balance.
Cost Savings. Working remotely allows you to save money on food, commuting, dry cleaning, parking, and other expenses associated with having to report to a workplace.
MAKING THE

ADJUSTMENT
If you are new to working remotely, here are a few tips to help you adjust.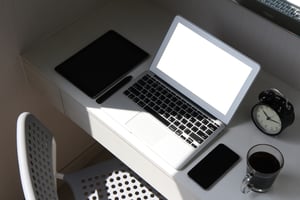 Designate a Workspace. Designate a room in your home as your official workspace. If you don't have a separate room, find a specific area with minimum traffic flow.
Set Your Boundaries. Just because the location of your job has changed doesn't mean the work has changed. Set clear boundaries with family and friends to prevent interruptions.
Manage Expectations. While your employer may be flexible with a new remote work situation, it's important to understand and manage expectations. Set yourself up for success by defining the scope of work, tasks, and deadlines and deliverables with your employer.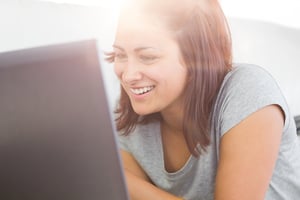 Communicate. Communicate. Communicate. It's more important than ever before to stay connected. Chat and messaging apps make it easy to connect, ask questions and even recognize other co-workers and managers for their support. At times, working at home may feel isolating, so it's helpful to schedule regular calls with managers and other team members to stay motivated and engaged.
Required Equipment. Working at home means your employer will need to make sure you have the right type of equipment to get your work done, such as computers, software, security, mobile devices, or even an enhanced high-speed internet connection.
Read More: Managing Remote Workers
Take Advantage of Remote Team Tools. Mastering work remotely also about finding the right tools to stay productive and connected to your team and your company. Look into remote tools and software that's designed for collaboration, communication, and efficiency and that addresses the unique needs of your team.
For project management, software like Basecamp has features such as task management, messaging and collaboration, file sharing, scheduling, and reporting,

For tracking time, apps like Timely allows you to schedule tasks and track the time spent on projects in real time, and has a function to track earnings for hourly workers.

For team communication, tools like Slack or Microsoft Team are helpful for connecting and communicating with team members.

For video conferencing and screen sharing, Zoom is helpful for team meetings and collaboration.
Enhance Your Skills. Take advantage of online workshops and courses, such as LinkedIn Learning, Udemy, or free online courses, to boost your skills and learn something new.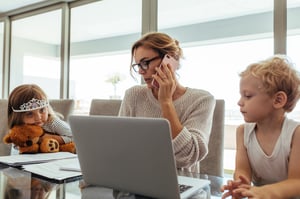 Managing Triple-Duty for Working Parents. The closing of schools and daycares means the role of working parents has tripled to include: full-time employee, full-time caregiver, and teacher. How do you juggle it all and still work efficiently at home when you have children?
Take advantage of the flexibility and implement strategies like establishing a routine with a schedule that works for your employer and your family. Be consistent and set clear boundaries, and share shifts with a spouse.
Read More: Workers Comp for Telecommuters
A Time for Patience and Understanding. Health and government officials are working together to maintain our safety, security, and health. For many, the transition to work remotely may be new and unexpected. Like any change, it's understandable that it will take time to adjust to a new way of working.
About Propel HR. Propel HR is an IRS-certified PEO that has been a leading provider of human resources and payroll solutions for more than 20 years. Propel partners with small to midsized businesses to manage payroll, employee benefits, compliance and risks, and other HR functions in a way that maximizes efficiency and reduces costs.