The unemployment rate in South Carolina is currently 3.4% and unemployment rates across the South average 3.9%. With unemployment numbers this low, businesses are not only concerned about hiring the right talent, they are also focused on retaining the workers they currently employ.
According to the Bureau of Labor Statistics, approximately three million employees across the U.S. leave their jobs voluntarily each month. High turnover can be detrimental to businesses. Turnover slows down production due to the increased time spent on recruitment and training new hires. It can also hurt customer relations, dampen employee morale, and affect the bottom line. Research suggests it costs businesses approximately 20% of an employee's annual salary to replace that worker.
Once you have invested time and money to hire the right team, how can your company retain the talent. A Glassdoor survey finds that 45% of employees leave jobs because of salary, followed by career advancement opportunities, benefits, and location.
4 Areas to Improve Employee Retention
Salary. Amazon has announced plans to raise the company's minimum wage to $15 per hour effective November 1. This is almost double the current minimum wage. This may sound high to many small businesses but raising salaries may be an investment in your workforce. To help you make these decisions, you can use an HR provider to perform a comprehensive industry salary analysis. This will provide you with the data to make decisions on wages, as well as the tools to make the changes.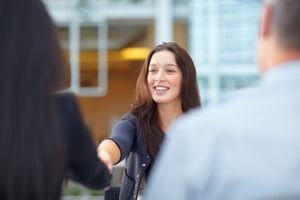 Career Advancement Opportunities. There is nothing worse than a dead-end job. Employees will be more engaged if they feel that the job can provide them a future. Offer valuable learning opportunities to your staff, make advancement possible, and establish regular feedback sessions with your employees. The feedback sessions can focus on employee performance metrics as well as ways that the company can improve to provide a better work environment. The employee/employer relationship is crucial to the success of the business and like all relationships, both sides must communicate needs and be willing to listen.
Benefits. Salary is important but according to Metlife's 2018 Benefits Trends Study, the right benefit offerings are key to retention. 62% of employees state that benefits are an important reason why they work for their company. Valuable benefit offerings include major medical, dental, vision, supplemental programs such as accident and disability, as well as retirement benefits and paid time off. Small businesses that use a PEO can provide employees top notch benefit plans that many companies can't access on their own.
Location. Although job location may be a reason that employees leave, it is the one area that businesses can't control as much. However, top employers listen to their employees and work to provide solutions that are a win-win for everyone. If a job can be performed remotely and a valuable employee has no choice to leave due to location, then a remote option may be much wiser than replacing the employee. Consider different work arrangements as necessary to ensure that you can retain talented and engage employees.
Companies that use a PEO grow 7 -9% faster, have 10 -14% lower employee turnover, and are 50% less likely to go out of business.
Employee turnover is costly and hurts the bottom line. In today's world with low unemployment, businesses are wise to focus on retention strategies. One strategy is to work with a Certified PEO to help with all your HR needs. According to McBassi & Company, companies that use a PEO grow 7 -9% faster, have 10 -14% lower employee turnover, and are 50% less likely to go out of business. That sounds like a winning strategy all around!