When Minneapolis employment agency received a "Notice of Inspection" from the U.S. Immigration and Customs Enforcement (ICE) agency, requesting a review of Form I-9 for all employees within five working days, the company responded two weeks later with a delivery of four boxes of documents. As a result, the company was slapped with a staggering fine of $209,000 for Form I-9 violations.
A small business providing transportation for individuals traveling to medical appointments was also hit with $109,000 in penalties for Form I-9 errors.
Stories about Form I-9 penalties are increasing, as well as the rumblings about the potential mandate for enrolling in E-verify, the online employment verification system. And employers nationwide are taking notice.
YOU'RE HIRED
Finding the right talent is more than a challenge. It's an endurance test. It begins with an exhaustive search through volumes of resumes and applications followed by a marathon of interviews. Then you find the one. The candidate accepts the job and agrees on a start date. Now for the final hurdle – Form I-9.
UNPACKING THE PROCESS:
IDENTITY VERIFICATION AND WORK AUTHORIZATION
Until the Immigration Reform and Control Act was signed in 1986, a swelling workforce of undocumented workers in the U.S. were subject to substandard working conditions, discrimination and lower wages by employers who supported a business model that relied on the cheapest labor regardless of immigration status. The new law hoped to change that by holding employers accountable for the legal status of their workforce. Ultimately, this act led to creating Form I-9 and employment eligibility verification. It required jobseekers to prove their work eligibility and employers to certify that the information and documents provided appeared to be genuine.
Since then, Form I-9 has been a legal requirement for employment in the U.S., for both citizens and non-citizens. Here are the basics.
Form I-9 has three sections and has to be completed by the employee and the employer:

Section I: Employee Information. The employee provides information and documents to verify citizenship or immigration status and work eligibility. This section must be completed on the first day of employment.
Section II: Employer Confirms Accuracy. The employer is responsible for reviewing and confirming the accuracy of the information and documents provided by the new hire. The employer must complete this section within three days of a new hire's start date.
Section III: Employer Re-Verifying Work Authorization. This section is used to re-verify an employee's work status, once employment authorization has expired or if documents have expired.
ENTER E-VERIFY
While Form I-9 was helpful in many ways, it could not solve the issue of illegal immigration alone. A decade after Form I-9 was mandated, new and tougher immigration legislation made hiring undocumented workers a crime. The idea was that stricter laws would eliminate job opportunities for undocumented workers and lead to a decrease in illegal immigration.
Enter E-Verify. In 1997, the U.S. government launched E-Verify to help employers expedite the work authorization process of new employees.
Here's how it works:
E-Verify 101. After a review of a new hire's information from Section I of Form I-9, E-Verify employers must upload the completed form within three business days from the date the employee starts work for pay. Only one applicant can be verified at a time and the process cannot be used with existing employees.
The information on the new employee's Form I-9 is then electronically matched against records from the databases of the Social Security Administration and the Department of Homeland Security. Once the form is uploaded to the E-Verify site, the new employee's employment eligibility status is reported almost immediately.
If the applicant receives a Tentative Non-confirmation or TCN status, the employer is required to notify the applicant, who is provided a deadline to address the issue.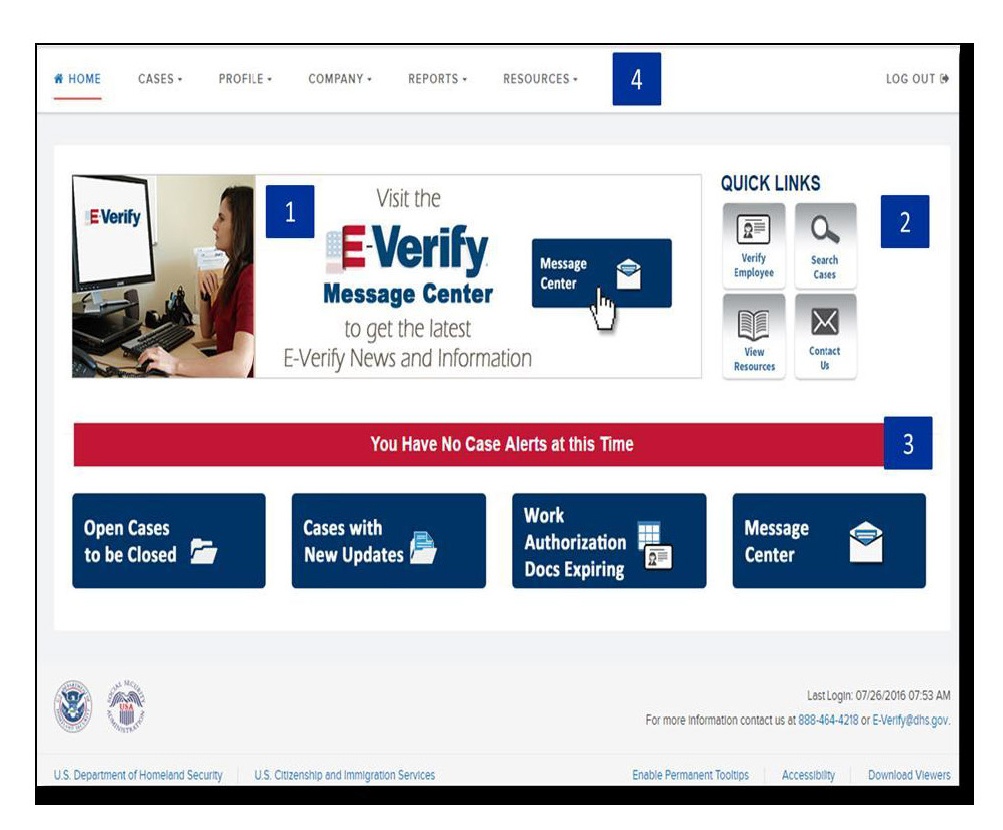 E-Verify 2.0. E-Verify has come a long way in the two decades since it was first introduced. In the recent years, the Department of Homeland Security has accelerated efforts to strengthen its capabilities, including a $131 million investment to fund enhancements, expand services and make important technological upgrades. In 2017, E-Verify transitioned to a new and improved cloud-based software system and earlier this year, rolled out a dedicated website, www.E-Verify.gov. The new website is easier to use and is also optimized for mobile devices. Both employers and employees have access to a wealth of helpful resources such as, training webinars, news and updates, performance reports and usage statistic, and information about employee rights and employer responsibilities.
Employees Only: myE-Verify
As a way to combat fraud, protect employee identities and educate workers, E-verify added a dedicated portal for employees called myE-Verify. The site features free tools for identity protection and checking employment eligibility.
Self Lock. Employees can lock their social security number to prevent unauthorized use and fraud within E-Verify.
Self Check. Accessing the same databases used by E-Verify, the Self Check tool allows jobseekers to check their eligibility status and make corrections before arriving to the Form I-9 stage. Pre-screening applicants is against the law. Therefore, employers can't require new hires to use Self Check as proof of employment authorization.
MANDATORY ENROLLMENT
Are all businesses required to use E-Verify? It depends.
By federal law, all employers in the U.S. are required to complete a Form I-9 for every new employee. Currently, using E-Verify is only mandatory for federal contractors, state contractors, employers located in certain states, as well as companies participating in the Science, Technology, Engineering and Mathematics (STEM) program.
While E-Verify is available in all 50 states, the District of Columbia, Puerto Rico, Guam, and the U.S. Virgin Islands, only 22 states require employers to use it. And how each state requires employers to use E-Verify varies from state to state. For example, according to E-Verify laws in North Carolina, an employee is not considered an employee if the term of employment is less than nine months within a calendar year.
In addition, businesses are exempt from using E-Verify based on the number of employees which varies by state. In North Carolina, businesses with 25 employees or less are exempt, while businesses in Georgia, its 10 employees or less. And in some states, employers may be required to enroll in E-Verify in order to receive a business license.
For now, E-Verify does not provide guidance on state or local E-Verify laws, so it's important to be familiar with the laws in your state.
AVOIDING THE MOST COMMON ERRORS
While E-verify makes it easier to verify employment eligibility, it doesn't replace an employer's responsibility for Form I-9.
According to ICE, more than 130,000 compliance violations were reported last year. (LINK: https://www.ice.gov/factsheets/i9-inspection)
As the Minneapolis employment agency learned, simple Form I-9 errors proved to be an expensive lesson. Penalties for compliance violations, such as a missing Form I-9, range from $110 to $1,100 per violation and more serious breaches, such as employing unauthorized workers, range from $375 to $16,000 per violation.
Here are some of the most common and errors to avoid:
Missing the 3-Day Deadline. Once an employee provides the required documents and identity information, employers must submit the completed Form I-9 within three days from the new hire's start date.
Verifying Existing Employees. E-Verify isn't a pre-screening tool. Once enrolled, E-Verify can only be used for new hires. It's illegal to use selectively on current employees or other people.
Information Errors. In many cases, errors are due to a simple oversight, such as a missing social security number or failing to update a name change after marriage. Hire Date and Payroll Date Don't Match. The date the employee begins to work for pay must match the date in payroll records.
Failing to address a Tentative Non-Confirmation (TCN). E-Verify employers are required to notify the new employee of a TCN status. The employee then has eight business days to address the issue. It's illegal to terminate, suspend, refuse to pay or train, or delay the start date of an employee because of TCN status.
Invalid Identity Documents. To verify the identity and employment eligibility, new employees must provide, in person, the original documents from an approved list provided by the Department of Homeland Security. Copies, faxes and emails will be rejected.
Photos Do Not Match. Often employers make the mistake of comparing the employee's photo on E-Verify to the actual employee. The photo on the employee's Form I-9 and the photo on the employee's original identity documents must match. Now compatible with smartphones and tablets, E-Verify's new photo-matching tool helps to detect mismatched photos.
Using the Wrong Form I-9. Using an outdated or incorrect form is a common mistake. For example, employers are required to use the most recent version of Form I-9, which includes the date 7/17/2017 located at the bottom left-hand corner of the form. The Spanish version of Form I-9 is only valid for new hires in Puerto Rico.
Missing Form I-9 Records. In addition to keeping Form I-9 records for every employee, employers must also store records of terminated employees for one year after the termination date or three years after the hire date, whichever is later.
Missing Employment Eligibility Poster. E-Verify employers are required to clearly display the Notice of E-Verify Participation and Right to Work posters in both English and Spanish.
For more information about how to avoid common errors, visit www.uscis.gov.
WHAT YOU CAN DO
You can see why it's important to establish strong employment verification procedures. Here are a few steps you can take now to protect your business.
Conduct a Compliance Review. Be proactive and implement a compliance review program. Review your current procedures for new hires and training. Audit your current Form I-9 records and make necessary changes to avoid potential compliance issues in the future. A company's effort to make corrections before an investigation occurs will help to reduce penalties.
Train Employees. Train employees on procedures for completing Form I-9, using E-Verify and the requirements for staying compliant.
Consider an E-verify Employer Agent. Businesses can opt to outsource the employment verification process by hiring an E-Verify employer agent. In most cases, employer agents offer additional supporting services, such as background checks, legal assistance, payroll and accounting services.
READY OR NOT
Why enroll in E-Verify now? Increased efficiency, reduced chances for errors, and staying compliant are a few reasons companies are participating. While E-Verify is currently a voluntary program, change is coming. Smart businesses are staying ahead of the game by preparing for the inevitable national mandate, which immigration reform experts say could happen within the next three years – ready or not.
For the latest updates and more information about E-Verify, visit www.e-verify.gov.