This is Part Two of a 14-part series, Women in the Workforce: We Can Do It! which explores topics related to the history, challenges, and accomplishments of working women in America.
In the early 20th century, most women did not work outside of the home, and if they did, they were typically young and unmarried. The census bureau reported that 20% of women were gainfully employed in the workforce, and only 5% were married women. African American women made up a larger proportion of these numbers as they were more likely to stay in the workforce after marriage. In some states, there were even laws that restricted women's working hours and jobs. Cultural norms, legal restrictions, educational opportunities, and the lack of work available to women all contributed to these low numbers.
However, things for women began to change once our country was at war. In 1917, President Woodrow Wilson enacted the draft for all men between 21 and 30. Millions were drafted into service, which left gaping holes in the workforce. Women were ready to jump in to help their country and quickly entered the job market.
Positions Beyond Domestic Jobs. As men went overseas, women were encouraged to fill their jobs. Women were no longer limited to traditional feminine jobs, such as housekeeping, but were abruptly employed in every field.
During World War I,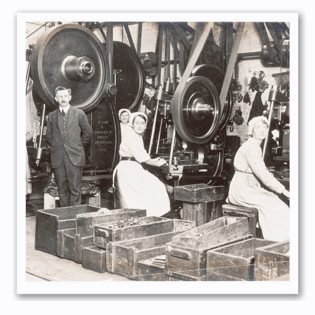 they worked in banks, railroads, ammunition factories, farms, and more. African American women were also able to move beyond the limiting domestic jobs to the factory floors and offices. In addition to women working outside of the home, approximately 300,000 women served in the Army and Navy. Over 25,000 women went to Europe and volunteered as nurses, canteen hostesses, and switchboard operators. These women were working alongside men in the service, yet they never received the status or benefits of the men.
Educational Opportunities. Educational opportunities for women also increased as additional training was needed for the skilled jobs available. Women's unions formed during this time supported the unique circumstances around working women. The National War Labor Board was established in 1918 to settle any labor disputes during the war. The NWLB was an agency made up of 12 members. The board opposed employee strikes but supported unions, collective bargaining, eight-hour workdays, and equal pay. The board decided that if women worked the same jobs that men would ordinarily work, they should be paid the same. Unions supported the idea of equal pay during the war effort because they wanted to make sure that wages did not decrease for males when they returned from the war. However, women's take-home pay did not necessarily increase as employers found creative ways to get around the requirements using tactics such as hiring multiple women for one man's job, implying that the work was not equal.
➡️➡️ Read More: Part One: Women in the Workforce: We Can Do It!
A Turning Point and A Time of Independence & Economic Power. The war years gave women a taste of independence as well as economic power. Women played a vital role in the war and showed the world that women were capable and deserving of more choices.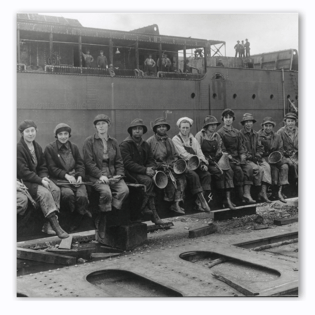 The war was a turning point for women and the strides made during this time were a catalyst for women's suffrage. On Sept. 30, 1918, a month before the war ended, President Wilson expressed his support for women's right to vote by stating, "We have made partners of the women in this war, shall we admit them only to a partnership of suffering and sacrifice and toil and not to a partnership of privilege?" In 1920, the 19th Amendment was ratified, finally giving women access to true democracy.
1920 also brought about the creation of the Women's Bureau, which was established in the U.S. Department of Labor. The Bureau has the duty to "formulate standards and policies which shall promote the welfare of wage-earning women, improve their working conditions, increase their efficiency, and advance their opportunities for profitable employment." As the only federal agency mandated to represent working women, the Bureau has the authority to investigate and report on issues that impact policy surrounding women in the workforce.
President Woodrow Wilson appointed Mary Anderson to be the first Director of the Women's Bureau in 1920. Under her direction, women's working conditions were studied, and policy recommendations were given. For example, in 1921, the Bureau focused on working hours and pushed for an eight-hour workday. They also examined restrictions on women taking civil exams necessary for certain jobs in the federal government, which led to a ruling providing equal access. In 1922, studies focused on the working conditions of African American women, a group that has been significantly underrepresented in policy. The Women's Bureau still exists today and has remained an important advocate for women in the industry.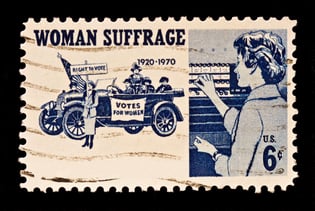 Post-war, Women Face More Challenges. Even though women had won the right to vote, and the government saw the need for policies that helped women, traditional roles still prevailed. As men returned home from the war, tensions rose over the new gender roles. It was difficult to go back to the traditional norms of the past, and there was increased anxiety surrounding women's new power in the homes and workplaces. The war seemed to have brought new independence for women; however, it was limited independence.
Women in the Workforce: We Can Do It! Whether married or single, with children or not, working part-time, full-time, or even two jobs, as a stay-at-home mom or a community volunteer, American women can do it! Throughout history, American women always have. And I am so proud we do!
➡️➡️ Read More: Part One: Women in the Workforce: We Can Do It!
Over the next few months, I will explore how topics about women in the workforce from the early 1900s until the present. Also, I want to note the changing trends of women in the workforce that this series contemplates will focus on white, middle-class women. Women of color have had very different experiences, and their work lives have been defined by racism, sexism, and financial necessity. I have pointed this out when possible, but please keep in mind that this series is not a complete picture of all women.
Please check back regularly to read the next blog in the series, Women in the Workforce: We Can Do It! UP NEXT: The Rise of Job opportunities for Women and the Rise of Inequality.
Propel HR President Lee Yarborough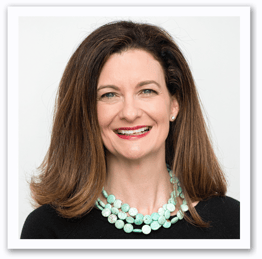 "My father, Braxton Cutchin and I founded the company in 1996. After being in the PEO and HR world for 25 years, I have experienced firsthand the value we can provide to both the clients and the employees. It is truly a win for all parties. I'm proud to have helped establish Propel HR as an industry forerunner in the Southeast. There is nothing I love more than receiving phone calls from clients who seek my advice as a trusted advisor. This is a business where I feel that I can help others, and that is important to my own value."
-- Lee Yarborough, President, Propel HR
Active in many professional and community organizations, Lee recently served as Chair of the Board of Directors of the National Association of Professional Employer Organizations (NAPEO). As NAPEO Chair, Lee focused on diversity and initiatives to deepen member relations. Under her leadership, she formed Women in NAPEO (WIN), a networking group designed to engage, empower, and encourage women working in the PEO industry. On the local level, Lee also served as the Chair of NAPEO's Carolinas Leadership Council for more than a decade. In 2015, she was named a Fellow of the eleventh class of the Liberty Fellowship Program and a member of the Aspen Global Leadership Network.
An advocate for public education, Lee has served on the executive board as Chair of Public Education Partners and is the founder and director of Read Up Greenville, a young adult, and middle grades book festival in downtown Greenville, SC.
When she breaks from board meetings, client visits, and networking, most likely, you will find Lee reading, camping, or spending time with her family. She also enjoys volunteering at her church and staying involved with her children's schools.
About Propel HR. Propel HR is an IRS-certified PEO that has been a leading provider of human resources and payroll solutions for 25 years. Propel partners with small to midsized businesses to manage payroll, employee benefits, compliance and risks, and other HR functions in a way that maximizes efficiency and reduces costs. Visit our new website, www.propelhr.com.