A couple of years ago, we introduced a new employee reward program at Propel HR to recognize the hard work of our employees: the "Propeller" award. I ordered some old-fashioned beanie propeller hats and announced the "Propeller" hat rules.
Hats can be given to employees who go over and beyond their job descriptions to help a client or a team member. The hat award can be given by either managers or peers and can be given at any time and in any setting. Spontaneity and instant recognition are encouraged. Once a hat is given, an email goes out to the whole team congratulating the winner and explaining why the honor is deserved.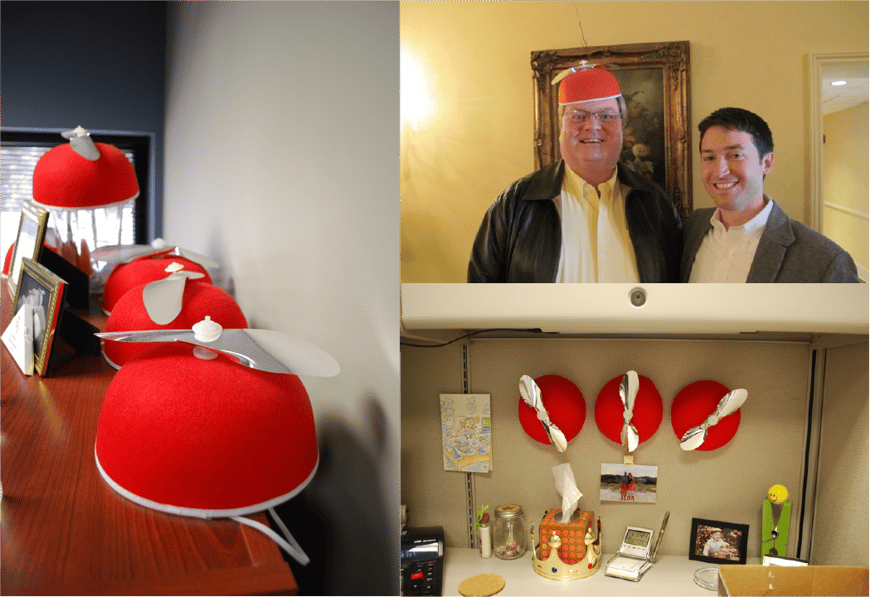 We have tried other recognition programs in the past which haven't been as successful. The "Propeller" hat is different because it has all the key elements of strong employee reward programs:
Don't wait – Recognize hard work when it happens for the greatest effect.

Be specific – Don't just tell an employee "good job"; explain why and how they did a good job.

No "buts" – Don't compliment and then offer feedback. Stick to the recognition and save the advice for later.

Be genuine – Employees can tell when you offer generic compliments. A true compliment is valued and worth the wait.

Seek out the good – Managers are trained to find problems to solve. Use the same process to catch employees performing good work!

Know your employees – Some employees will respond better to public recognition, and others prefer a quieter approach. Tailor your approach to achieve the greatest impact.
FURTHER READING: 5 Tips to Attract and Retain Top Millennial Talent
Another benefit of praising hard work is that a cycle of appreciation will be created. When you recognize employees, they want to perform better, giving you more achievements to applaud.
When you recognize employees, they want to perform better, giving you more achievements to applaud. - Lee Yarborough, President PropelHR
As I walk through the office each day, I see employees proudly display their "Propeller" hats. Some employees have one hat, while others have collected several. The hats cost less than $1.00 a piece, but the value they represent to the employees and management is priceless.
Contact us if your small business needs HR education, training or assitance. We'd be happy to help!